PATRICIO VALLADARES
Director y guionista. Conocido por su trabajo en el cine de género Valladares ha dirigido una gran variedad de películas a lo largo de su carrera. En 2011, dirigió "En las Afueras de la Ciudad" a.k.a Hidden In The Woods. La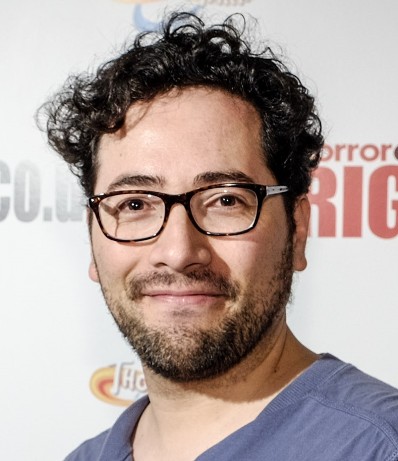 película, basada en una historia real, tuvo su estreno mundial en Fantasía Film Festival, y en el Film 4 FrightFest de Londres. Paul McEvoy, el co-director del festival llamó a Hidden In The Woods una "explosión punk rock de pura adrenalina desde América del Sur; Valladares es una fuerza de género a tener en cuenta!" La compañía norteamericana Epic Pictures Group actualmente maneja las ventas y distribución. Siendo vendido a Usa, Canadá, Alemania, Japón, entre otros.
"Hidden In The Woods" atrajo la atención del veterano actor de género Michael Biehn (Terminator, Aliens), quien pasaría a producir el remake del idioma inglés. WTFilms está manejando las ventas internacionales, mientras que Sony Pictures Home Entertainment y eOne Entertainment lanzaron la película en iVOD y DVD en Canadá y Estados Unidos respectivamente a fines del 2016.
En 2014 Patricio dirigió "Toro Loco: Sangriento" una comedia chilena de acción. El estreno mundial se llevó a cabo en Morbido Film Fest en México poco antes de que la distribuidora Arsploitation Films compro el filme para su distribución y la película fue lanzada en 2015 bajo la empresa FilmRise en los EE.UU.
En el año 2015 rodó tres largometrajes en inglés, los cuales están actualmente en distribución.
La primera fue Downhill, una película chilena experimental de terror / thriller. La empresa francesa WTFilms actúa como agente de ventas en todo el mundo y la película hizo su estreno mundial en Neuchâtel Festival Internacional de Cine Fantástico de Suiza, para luego estrenar en Londres en FrightFest. El cofundador del festival de FrightFest y crítico Alan Jones calificaron la película como "BMX BANDITS se funcionara con una historia de HP Lovecraft en un filme rápido, divertido y furioso".
Downhill fue lanzado en 2016 por Solo Media en todo el Reino Unido en VOD, DVD y emitido por SKY Cinema. Mientras Gravitas Ventures lanzará la película en formato On Demand en Estados Unidos, respectivamente, a finales del 2017.
El segundo fue The Ghosts of Garip (Kanli Girdap), película filmada en Estambul, Turquía. La distribución fue por parte de Mars Dağıtım. Se estrenó en 183 pantallas de cine en Turquía en 22 Julio del 2016. La película contó en su reparto con la famosa actriz turca Selma Ergeç y Selim Bayraktar ambos de la exitosa teleserie "El Sultán"
Por último, dirigió Nightworld en Bulgaria con el actor Robert Englund. Conocido por ser el mítico Freddy Krueger en Pesadilla en la calle Elm Street. Nightworld fue recogido por la empresa búlgara Open Frames y representada por la compañía estadounidense VMI Worldwide para sus Ventas Internacionales. Mientras Gravitas Ventures lanzará la película en salas de cine, en formato On Demand y Netflix en Estados Unidos.
He is Director and scriptwriter. He is known for his work in genre film, Valladares has directed a wide variety of films throughout his career. In 2011, he directed "En las afueras de la ciudad" a.k.a Hidden In The Woods. The film, which is based on a true story, had its world premiere at Fantasy Film Festival, and at Film 4 FrightFest in London. Paul McEvoy, the co-director of the festival called Hidden In The Woods a "punk rock explosion of pure adrenaline from South America, Valladares is a genre force to be reckoned with!" The American company Epic Pictures Group, currently manages sales and distribution, being sold to Usa, Canada, Germany, Japan, among others.
"Hidden In The Woods" attracted the attention of veteran genre actor Michael Biehn (Terminator, Aliens), who would go on to produce the English language remake. WTFilms is managing international sales, while Sony Pictures Home Entertainment and eOne Entertainment released the film on iVOD and DVD in Canada and the United States respectively at the end of 2016.
In 2014 Patricio directed "Toro Loco: Sangriento" a Chilean action comedy. The world premiere took place at Morbido Film Fest in Mexico, shortly before the distributor Arsploitation Films purchased the film for distribution and the film was released in 2015 under the company FilmRise in the US.
In 2015, he shot three feature films in English, which are currently in distribution.
The first was Downhill, an experimental Chilean horror / thriller film. The French company WTFilms acts as a sales agent around the world and the film made its world premiere at the Neuchatel International Fantastic Film Festival of Switzerland, then released in London at FrightFest. The co-founder of the FrightFest festival and critic Alan Jones described the film as "BMX BANDITS will work with a story by HP Lovecraft in a fast, fun and furious film".
Downhill was released in 2016 by Solo Media throughout the United Kingdom on VOD, DVD and broadcast by SKY Cinema. While Gravitas Ventures will release the film in On Demand format in the United States, respectively, at the end of 2017.
The second one was The Ghosts of Garip (Kanli Girdap), film filmed in Istanbul, Turkey. The distribution was by Mars Dağıtım. It premiered on 183 film screens in Turkey on 22 July 2016. The film featured in its cast with the famous Turkish actress Selma Ergeç and Selim Bayraktar both from the hit TV series "The Sultan"
Finally, he directed Nightworld in Bulgaria with actor Robert Englund. Known to be the mythical Freddy Krueger in Nightmare on Elm Street. Nightworld was picked up by the Bulgarian company Open Frames and was represented by the US company VMI Worldwide for its International Sales. While Gravitas Ventures will launch the film in movie theaters, in On Demand and Netflix format in the United States.